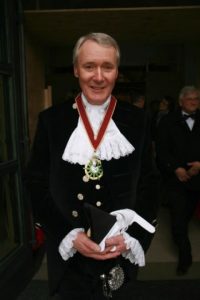 We are lucky enough at Village Matters to meet some truly remarkable people and be able to share some of our stories with readers. We recently interviewed the High Sheriff of Surrey, Richard Whittington to hear how his year is going since he took over the role earlier this year. The position is by invitation only and is an appointment by the Queen for a term of one year. Whereas the High Sheriff used to be the King's enforcer and tax collector and used to raising armies, it is somewhat different today.
The responsibility of High Sheriff is to support all organisations that uphold law and order, including the courts, police, prisons, emergency services and voluntary bodies. But it is also the chance to champion causes, particularly within the youth sector. There is no salary but the position is an immense honour and a chance to leave a legacy within the community.
Supporting the young comes naturally to Richard. He is chairman of the governors at Gordon's School, Chobham which has a strong tradition of the STEM subjects (Science, Technology, Engineering and Maths). Following a conversation with a local engineering business owner who had invited a group of local school children to visit his business and only two had turned up, Richard decided he wanted to use his position to engender connections between youngsters and Business by establishing apprenticeships and work experience. There is huge pressure on the young today, faced with vast university fees and employment challenges thereafter, so it felt natural to promote STEM subjects and give youngsters opportunities to use those skills to get into the work place.
Richard's interest in supporting the young extends to many areas and he is continuing the work of his predecessor Elizabeth Kennedy, in supporting youth restorative justice. This involves young offenders following a rehabilitation programme rather than a custodial sentence. Not only is a restorative justice programme about a quarter of the cost but it sees reoffending rates fall by up to 80%. Richard is planning a visit to one project where youths are helping repair one of the banks of the Thames in this area.
Other activities have seen our High Sheriff sit in on anger management classes with a EIKON, a Surrey youth charity partly funded by the High Sheriff Youth Awards, where teens are coached in techniques to help volatile behaviour. He has also attended a Safe Drive/Stay Alive workshop run by Surrey Fire and Rescue, where 16/17 year olds from Surrey schools are given a very sobering and hard-hitting presentation about the dangers of drink and drug driving.
The High Sheriff Youth Awards have supported 5000 young people in the county. Grants are awarded for a wide range of youth projects in Surrey. Donations and grants are available from £100-£5000. For information go to the website www.surreyhighsheriff.org.
By the way, and in case you were wondering about the name Richard Whittington is indeed a distant relative of Dick Whittington, the 14th century Lord Mayor of London, and later Sheriff of London. Yes really!