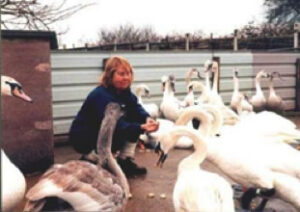 Dorothy Beeson has been awarded an MBE in 2015 in recognition of her work looking after sick and injured swans from all over the UK, for founding the first purpose built registered veterinary hospital for water birds in the UK, and for advising on swan welfare requests from all over the world. 3000 swans a year are cared for by the Swan Sanctuary as well as countless waterfowl.
Dot (as she is known) says she was absolutely bowled over at the award and had no idea how it was that she had been chosen.
The MBE follows on from previous recognition in the form of a the BEM (British Empire Medal) in 1990.
The Swan Sanctuary, at the top of Felix Lane on the borders of Shepperton and Sunbury is not generally open to the public, so many locals may not know a lot about it. We will be doing a feature in a Spring issue of this magazine so do look out for it.
For more information or to make a donation see www.theswansantuary.org.uk