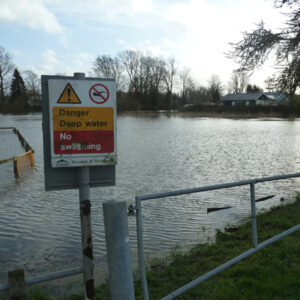 It may be high summer but the floods earlier this year still hang over a lot of us like a dark cloud. While the rains have dried up, some people have been left high and dry by insurers – for some their insurer is taking too long to pay out on a claim or for others there are problems with the repairs or lingering arguments with the loss adjuster.
Local resident Paul Wheeler, who works at the Financial Ombudsman Service – the free service that sorts all these complaints out – sees it all. So we asked him for some tips on what to watch out for.
Insurer dragging their heals
Was your house flooded at the start of the year and you're still waiting for it to be sorted? This can be frustrating – especially if you're waiting on the money to get the damage fixed. Given the huge number of claims that went in at the same time following the floods, it's natural that the insurance companies who have to sort them out are under pressure too. At the ombudsman we'll find out what's causing the delay – if we decide the delay was preventable, then we may ask them to compensate you for the trouble and upset they have caused.
'Repair, Replace or Cash'
Has the insurer agreed to settle your claim – but not in the way you'd ideally like? The insurer may, for example, offer to repair something when you would much prefer a replacement. Most household policies leave it to the insurer to decide whether the claim should be settled by repair, replacement, or cold hard cash. In some cases, you may be given a voucher to a specific retailer to buy a replacement from – but we've heard from some people who weren't happy with being forced to shop somewhere they don't usually or somewhere different to where the goods were originally bought. It pays to check into what you're going to be entitled to before the worst happens.
Shabby Repairs
It's distressing enough having your house flooded and everything ruined. But if the builder has been and gone and you think everything is back on track, it is doubly distressing to find the repair work is not to a standard you're happy with. If the repairers were chosen by the insurer then generally the insurer will be responsible if something goes wrong. If on the other hand the repairers were chosen by you then usually you'll be responsible if something goes wrong with the repairs. So, if you're having the work done privately, check with the insurer exactly what repairs it's willing to cover.
Loss Adjuster
When faced with a large or complicated insurance claim – like many of the ones that we've unfortunately seen here in Sunbury after the floods – an insurer will often send out a loss adjuster, an independent claims specialist, to assess the situation. It's their job to look at the damage and determine what the insurer has to do to put things right. If you're not happy with the loss adjuster's recommendations, speak to your insurer. If you still disagree on things after talking to them, call the ombudsman.
Alternative Accommodation
Has the worst happened and you had to move out of your home? In some cases, you may need to live somewhere else while the required repairs are carried out. Generally, alternative accommodation should be comparable to the insured property – and should allow you to continue with your life as easily and comfortably as possible. Some repairs can take a long time to complete, which may cause inconvenience. If they took longer than they should have to fix things – or the consumer was placed in inappropriate accommodation – we'll consider whether the insurer needs to make amends for the hassle it caused.
High Premiums
Worried that your home insurance will go up or if you'll be able to get insurance at all in the future? Then you're not alone. A lot of us who live in the area are too. The good news is the government and insurance industry are looking to cap the annual premiums of people in flood-prone areas under a scheme called Flood Re – have a look online for more info.
We hope that you're able to enjoy the summer without January's floods hanging over you like a dark cloud – but if you do find yourself still trying to sort out this year's flood problems the Financial Ombudsman Service may be able to help on 0300 129 9 123