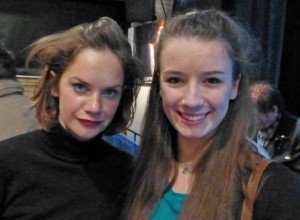 The 11th Rotary Prestige Lecture at Halliford School presented us with a look at Shepperton Studios, past, present and future. I always have a flush of pride listening to stories about the old Sound City and what is now a world class centre for film, right on our door step.
The evening was in aid of the Riverside Youth Theatre and I was accompanied that evening by RYT Ambassador (and neighbour of mine) Jasmin Ella. I have attended several performances by the group in Sunbury and they are a talented bunch. The relevance of the Prestige Lecture was the attendance of Ruth Wilson, Shepperton girl and now famous actress, who found her love of acting at the RYT itself. If ever there was a good role model for an aspiring actress it is Ruth. Her mum had packed her brothers off to RYT to get them out of the house and Ruth followed in their footsteps. She loved it. Esher College was where her acting was honed, but it was at the Riverside Arts Centre in Sunbury that she had her first stage kiss at the age of 17! These days she works alongside such hunks as Tom Hiddlestone, Jude Law and Colin Farrell.
She came out of University with a first in History and a lot of acting experience and persuaded her father that Drama School would be a good investment! She spent two years at LAMDA (London Academy of Music and Dramatic Arts) and found an agent. Since then it has been all go. She is recognised for her role as Jane Eyre and recently for her role in Disney's The Lone Ranger. Filming takes her all over the world (including Shepperton Studios itself!). She was recently filming with Sir Ian McKellen (Gandalf to many of us!) in Namibia. Ruth recounts how they went quad biking up the sand dunes together and how he was up for anything despite his 73 years. Quad biking in sand was not his forte however and he ended up in a potentially fatal accident!
Film may pay more, but the intimacy and challenge of theatre is where Ruth's passion lies. She has been awarded two Olivier Awards for roles at the Donmar Warehouse in London. Even more wonderful to know that it all started at the Riverside Youth Theatre.
We listened intently to tales of a glamorous life we could only dream of. Jasmin was inspired and a little star stuck, all the more so when I introduced the current and the budding actress to each other. It was difficult not to be inspired after such a superb evening of history from Nick Pollard, studio life from UK Operations Director of Shepperton Studios, Peter Hicks and Ruth herself. The RYT will receive the £2500 proceeds of the evening and hopefully we will see more stars emerge from the local youth talent.