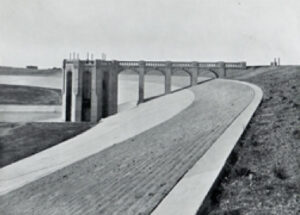 The Metropolitan Water Board was formed in 1902 to improve the supply of water to the rapidly expanding capital, and quickly commenced a programme to vastly increase unfiltered water storage capacity.
As part of these plans, a new reservoir at Littleton was authorised in 1911. Originally designed as 2 reservoirs, construction began in August 1914, but by the time work stopped in 1916 due to the First World War, it had been redesigned as a single reservoir with a central baffle. In 1919, Henry Stilgoe, grandfather of the well-known musician and entertainer Richard Stilgoe, became Chief Engineer of the MWB, and work recommenced. However in 1920 a pocket of 'running sands' was discovered where the western embankment of the reservoir was due to be built.
This necessitated moving the embankment 300 yards to the east, whilst at the same time moving it to the south to compensate. Sadly, this meant the demolition of a substantial portion of the old village of Littleton, also swallowing up three quarters of Littleton Green. The road which ran from Squires Bridge to the Staines Road at Ashford Common also had to be diverted, becoming the present New Road, and houses were built along it to accommodate the displaced villagers. One building, Astleham Manor Cottage, was dismantled and saved, and can be seen today at the Chiltern Open Air Museum.
The capacity of the new reservoir was 6,750 million gallons, with a water area of 723 acres and a circumference of about 4 miles. It was said to be the world's largest free-standing reservoir (as opposed to one created by damming a valley). It was created by excavating the centre of the reservoir to form a bank around the circumference, then cutting a slot through this bank to the London Clay below, before filling the slot with clay to make a waterproof seal. Incredibly this clay was trodden into place by gangs of men with sacking wrapped round their boots! The inside face of the bank was then lined with concrete.
The Littleton reservoir was opened on 13th June 1925 by King George V, and in a last minute decision, was officially named after his consort, Queen Mary. The dedication plaque sits high on the bank of the reservoir to this day.
The Annual General Meeting of the Sunbury and Shepperton Local History Society is on Tuesday 25th February at Halliford School, after which Nick Pollard will be giving a short presentation of photos of floods past and present in Sunbury and Shepperton. 
Admission free.