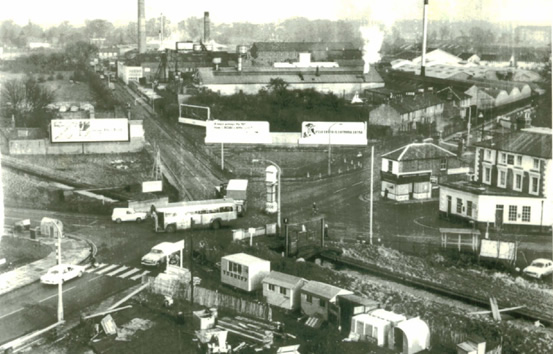 This photo of Sunbury Cross, looking east from the Pyrene House office block, was taken just as preparations were underway to change the area forever.
A large roundabout was to be built, displacing the Jubilee clock seen in the middle of this view, and following this the huge M3 flyover was constructed. On the right at the top of Green Street can be seen the Volunteer Arms pub, soon to be demolished, and in the background with the tall chimneys are the extensive PIM hardboard works in the Hanworth Road, now replaced by a hotel, flats and offices. The diagonal line running across the photo is the aqueduct supplying the pumping stations at Kempton Park with water from the local reservoirs. This was covered over by the new road layout.
More old photos of Sunbury can be seen in an exhibition by the Sunbury and Shepperton Local History Society, at Sunbury Library on Saturday 9th November between 10am and 4pm.