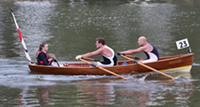 Andrew and John Graham, both Members of Sunbury Skiff and Punting Club (SSPC), are celebrating success after winning the gruelling 21 mile Great River Race.
Starting at Millwall in London Docklands and finishing at Ham House, Richmond, the Race attracts top crews from all over the world who compete to become the UK Traditional Boat Champions. This year there were 327 boats with over 1400 competitors. The brothers had found a two man dingy (Maggie) which had a low handicap that if pushed to the maximum had a chance of outrunning the dominant usual winners of Dragon boats & Hawaiian outriggers. After many rigorous calculations, Andy worked out that they could win the three hour race by 40 seconds!
The rules state you must have a Cox and a passenger so they enlisted the clubs Vice Captains brave but equally naive children! Emily 13 & Oliver Neat 10 held on in terror as Maggie bounced through the pool of London like a cork. No time to take pictures of Big Ben today! The two younger siblings bailed out the sinking boat and bleated out instructions as the two veteran brothers battled to avoid slower boats and giant metal buoys.
At Chelsea Bridge (13 out of 28 bridges) they passed the lead boat. Now the race was on. One hour down. They were going to have to dig deep for two more hours to out-run the fastest handicapped boats that were just starting.
Just before the two hour mark at Kew Bridge (24 of 28 bridges) they spotted two shapes on the horizon. Controlling panic and a sinking heart they pushed on through to Twickenham to be told by the Harbour Masters launch, which had been flanking them since Lambeth, that the half lock at Richmond was not open so the crew would have to hold up. "Hold up!! We have rowed for two and a half hours and have seven boats breathing down our necks. NO way!" They skimmed through as the barrier lifted in front of them.
Roared on by the masses of spectators and full of gusto as Emily unravelled the Sunbury flag, Maggie crossed the line in two hours 52 minutes and 29 seconds, beating the six times champions The UK Outrigger Canoe Club by a mere 12 seconds.
In all SSPC picked up 4 Trophies presented by Dame Tanni Grey Thompson. "It's going to be a great show and tell at school on Monday" Oliver yawned on the way home.
For fun & adventure come & join SSPC at sspc.info