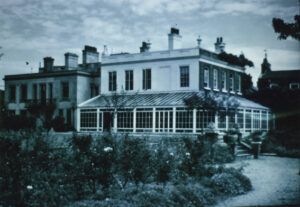 As I write this article, the Police College building is gradually being demolished, to be replaced by a low-rise development of houses and apartments. Hopefully most people agree that this is far more in keeping with the character of Lower Sunbury than the existing tower block. The official name of the Police College building was Montford House, and like nearby Montford Close, this perpetuates the name of a substantial old house which used to stand on the site.
This was in turn named after Lord Montford, who purchased the late 17th century house in 1783. It was then known as the Manor House (several buildings in Sunbury have had this title, usually because the current Lord of the Manor was living there). Montford had been MP for Cambridge before succeeding as the 2nd Baron on the death of his father. After Montford died in 1799 it had a series of owners, including William Horatio Harfield, who later lived at Sunbury Court, and after whom Harfield Road is named. In the 1912 Valuation Survey the house is described as having having a veranda on 2 sides. The accommodation consisted of entrance hall, dining room, drawing room, kitchen, scullery, pantry, larder and below stairs servants hall. There were 7 bedrooms, 2 bathrooms, lavatory and 3 maids rooms. The grounds covered just over 3 acres and had potting sheds, a glasshouse, forcing range, stabling used as a garage, workshop with rooms over and a walled garden. It was noted that there had been a Racquet Court since 1909.
In 1946 the house and land were bought by Norman and Thomas White, owners of Sunbury Nursing Home next door, and they were granted permission to use it as part of the Nursing Home. In 1960 the White brothers put the house up for sale, and it was purchased in June 1960 by the Metropolitan Police for £32,500 to build a Cadet Training School. The old house was demolished the following year.
There is more information about vanished houses in Sunbury in 'Lost Houses of Sunbury and Shepperton', published by Sunbury and Shepperton Local History Society. The next meeting of the Society is at 8pm on Tuesday 15th January at Halliford School, when the subject will be 'Surrey on Film 1914-53'.