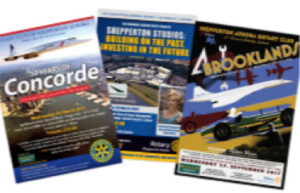 Twenty years ago, Founder Members, having decided to hold their weekly Rotary meeting at breakfast time, were considering a name. 'The Black Pudding Club'? No! After much deliberation, the suggested name ' AURORA ' – appealing, unique, memorable and imaginative was chosen. Embracing all that is reliable, exciting and hopeful in the sunrise and reflecting the spirit of Rotary, the Shepperton Aurora club with the original Rotary Club of Shepperton and Sunbury holds a special place in the heart of the local community.
FUN, FELLOWSHIP and FUNDRAISING underpins our activities both here and abroad always remembering the Rotary Motto SERVICE ABOVE SELF.
Generations of children have grown up with the expectation of Christmas music broadcasting a sleigh in the area. Whilst Santa spreads his magic, his helpers knock on doors collecting for local charities.
Christmas collections along the roads and in Shepperton High Street together with the evening raid on pubs and restaurants are a major source of charitable income. Manor Mead School, Cameo, The Greeno Centre, The Swan Sanctuary, The Black Swan Sea Cadets, Phabsail and many other charities have benefitted over the years.
Other annual events such the Prestige Lecture, Youth Speaks and Race Night are hugely popular. Held in Halliford School, the Prestige Lecture is appropriately named; we have attracted speakers with status and widespread appeal. Talks on, for example, the Mary Rose, the 100 year anniversary of Shepperton Studios, McLaren's, Brooklands Motor Museum and Walton Bridge have always attracted a full house as have speakers such as Lord Digby Jones and Mike Banister, the former Chief Concorde pilot and the artist David Shepherd. These evenings are informative and fun, surely the best combination. Monies raised are donated to the speakers' charities.
Sunbury Rotary Club closed down in 2003 having organised a Youth Speaks competition for the last twenty of its fifty year span. Aurora was invited to take over the event. Each year in the Council Chamber, Knowle Green, attended by the Mayor, Rotarian and local dignitaries, parents, teachers and guests, Spelthorne Secondary schools enter the competition with teams at both Intermediate and Senior Level, a wonderful opportunity for pupils to speak in public in a formal setting.
The audience is treated to thoroughly prepared talks on various subjects of the pupils' choice. Always making compelling arguments, these confident young people certainly reassure us that despite teenage 'bad press', society will be safe in their hands. The judging is exacting against specific criteria. How exciting that as Shepperton Matters goes to press, this year's team from Matthew Arnold School is going forward to the Regional Final with National success a real possibility.
On a lighter note, punters can enjoy a gamble at Race Night. Fish and chips and a star raffle always attract a loyal following. How can a punt on horse be a problem when Aurora's charity budget benefits from the takings, over £2000 yearly.
As well as Youth Speaks, other activities are organised to support Rotary's Education programme. High quality illustrated dictionaries are donated to Year 5 primary school children. Both teachers and children assure us that, despite internet access to our rich language, there is still a place for practicing dictionary skills using a hard copy. There is much anecdotal evidence that the children treasure these books; it's certainly a pleasure handing them out individually. Future Rotarians?
We take pride in our local communities but we also have a global outlook. Rotary International is committed to the worldwide eradication of polio. The Bill and Melinda Gates Foundation pledged £250million to the cause providing Rotary committed £200million. Over the past 20 years Aurora has made regular donations to the 'End Polio' campaign and two of our members have travelled to India to support the government and local Rotarians. They take part in a two day scheme, within the countrywide programme, immunizing 173 million children under 5years old each year.
Our members have also been personally involved in projects in Peru, Africa and Kosova and have contributed to the late Ian Squires' Mission for Vision charity.
News coverage of floods, earthquakes and war highlights the plight of the injured and displaced worldwide. In these areas of desperate need, Rotary Shelter Boxes and aid workers support the most vulnerable people who are without food, shelter, sanitation, education and healthcare, some of their basic human rights. In cases of immediate need we hold special collections outside Tesco's in Sunbury. Shoppers generously responded to the plight of the Caribbean Islanders following the recent disaster.
In 2017 Aurora oversaw the establishment of a Rotary Interact Club at Sunbury Manor School. Aged13 and 14, with boundless enthusiasm and energy, these 20 amazing young people have raised over £10,000 for their chosen charities. Talent competitions, concerts, Christmas decorations for residential homes, helping local food banks and other activities are so popular that the club has a long waiting list.
A garden designed with disabled pupils in mind is flourishing and 3,000 purple crocus blooms symbolising the 'End Polio' campaign can be seen by the passing public. Why purple? Immunised children have purple dye put on a little finger to prevent double dosing and another sweet reward!
Four older pupils from Sunbury Manor will again attend a Rotary Young Leadership residential week's course during the Easter holiday.
In 1998 the Rotary Club of Shepperton Aurora became the first in the District to be chartered as a breakfast club. There has always been a balance of men and women and a wide age range. We continue to meet each Wednesday morning to socialise over a 'Full English' (black pudding optional!) and engage with speakers on various, always interesting topics. Guests may join us for a complimentary breakfast at 7.15 am at the Bridge Hotel, Chertsey. Contact details below.
As we mark our 20th anniversary this May having raised and donated just under £240,000 to many amazing causes, Aurora remains committed to the people of Shepperton and Rotary International worldwide.
Aurora will have, as usual, a strong presence at the Village Fair in June. Do come and say 'hello' to us in Rotary Village.
For further information phone Ken on 07818418411 or email ken.howe2@btinternet.com