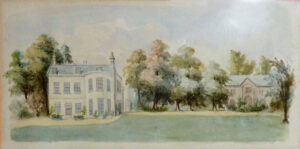 Feedback from readers to articles appearing in Sunbury and Shepperton Matters quite often leads to interesting follow-ups. One which was recently received is quite exceptional in that it led to the unexpected acquisition of a photograph showing a charming two hundred year old watercolour of Halliford House.
Madeleine Symes, living in London had read my story of the Barkleys in the July 2017 issue of Sunbury Matters online and e-mailed editor Monica to say that as a descendant of the Barkley family, she had inherited an original watercolour of the House. She enquired "Would you like me to e-mail it to you,? Please let me know". Monica couldn't reach her keyboard quickly enough to send a speedy reply to the effect "YES PLEASE".
The watercolour was painted in about 1814 by Martha Barkley (1802-1867), the younger daughter of Charles and Frances Barkley. Charles and Frances were the intrepid couple who sailed around the world in two arduous sea voyages between 1786 and 1794, in search of valuable sea-otter furs. Their story is told in the book 'The Remarkable World of Frances Barkley'. Between about 1810 and 1830 they lived at Halliford House with four of their children, Jane Hornby, John Charles, Martha and Charles Francis. Both sisters were married at St. Mary's, Sunbury, Jane to Charles Perkins on 26th October 1816 and Martha to Robert Grant Shaw on 13th May 1824.
Madeleine Symes, who contacted us, is currently typing some of Martha's journals and it is hoped that they may yield some interesting information concerning her time at Halliford House. In one journal Martha writes that she stayed there for "seventeen summers" with her parents, Charles and Frances.
In later journals, Martha reflected on her childhood "Then how I loved Sunbury. How I loved to walk with Mama through the village and see the poor people, or stroll up with Papa to the cross road and leaning over the gate, watch the sunset, then a ride on the great swinging gate [at Halliford House] as I return (home)…."
Later in life Martha had six children and with a Governess, travelled and lived in Europe.
Ken Battle is a member of the Sunbury & Shepperton Local History Society