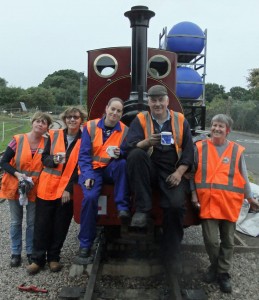 A change of locomotive at the Hampton & Kempton Waterworks Railway has seen Thomas Wicksteed leave the Kempton Steam Museum in early September, back to her 'home rails' at the Kew Bridge Steam Museum. But the "steam" has not cooled on the Hanworth Loop as our locomotive Darent has arrived to take up the duties of pulling the regular Sunday service around the Hanworth Loop. In fact for one weekend there were two engines in steam at Kempton, so that the Two Chimneys of the Kempton Park Great Engines were matched by the two locomotives chimneys on the adjacent Hanworth Loop.
For those of a technical bent and YouTube viewers you can see the arrival of Darent on YouTube on our website www.HamptonKemptonRailway.org.uk and as you may see from that video clip one of the co-owners of Darent is Mrs Rick Scholefield, seen here on the left front buffer-beam of her loco.
Andy, Teri, Nicola and Betsy complete the line-up as they take a tea-break from a Ladies Training Day on the footplate of Darent. And after some instruction, as they steam past the Engine House of the Kempton Park Great Engines, just beside the elevated section of the A316.
We can not promise you that there will be a lady on the footplate next Sunday, but there will be several female railway enthusiasts selling you tickets, or a 'railway' souvenir or two, and quite possibly acting as "guard" for your ride around the Hanworth Loop.