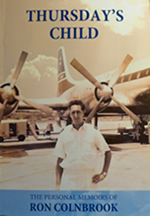 Ron Colnbrook contacted me some time ago asking if I would like to have a copy of his memoirs. As a Shepperton resident I was naturally curious to find out about him. A very professionally produced book turned up and I started reading. Not everyone is gifted with the ability to tell a story, but Ron has certainly manage do to that. What a tale it is. As a Thursday child, the saying certainly got the part right about having far to go…
Maybe it was his early years in Hayes, never far from aircraft, that inspired his life's path. He went from making models when he was little to joining the Air Training Corps at 16, volunteering when he was 17 and being called up and joining the RAF as a navigator when he was 18. He was part of Bomber Command where he was a navigator of a Lancaster at the end of WW2. Ron shares with readers his thoughts on Bomber Harris and the controversy of the actions associated with Bomber Command.
He also shares his many experiences from his career post war. Planes continued to dominate his life and he joined BOAC after being demobbed. This was at the very start of operations out of Heathrow, when passenger check-in was in a marquee! He was posted as station manager to far-flung places which were outside most people's dreams including (complete with white tropical uniform in some cases!) Nairobi, Jakarta, Libya and Khartoum. His first experience of commercial flying was in a Handley Page Argonaut which carried only 44 passengers. His travels saw him witness historic events. He was in Baghdad when King Faisal II was assassinated, witnessed the Six Day War in Cairo and the aftermath of the Mau Mau uprising in Kenya.
After retiring at the tender age of only 58 he took up training for the YTS (Youth Training Scheme), introducing 16 and 17 year old school leavers to air freight. This proved a challenge, but Ron rose to the occasion and won his audience over with tales of travel and adventure.
His love of tennis, coupled with his training experience has seen Ron turn his attention to coaching juniors, based in his club at Weybridge. His time has also centred around St John Fisher Church, where he and second wife Joan were married in 1988. After a long and adventurous life, Ron now lives a quiet existence with Joan and as his memoirs are finished and published her only request; "You will have more time to help me around the house and in the garden!"
The book is available directly from the author:
Email: colnbrookronald@hotmail.com
Tel: 01932 222604