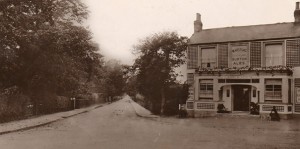 As I write this article, a new sheltered housing development is taking shape at the top of Shepperton High Street, on the site of the old Crossroads pub.
The pub was actually one of the first buildings in the High Street, as before the railway arrived in 1864, the area was mainly fields and orchards. Once the railway arrived, housing and shops began to cluster around the station, and so the centre of the village was drawn away from its original focus of the Church Square, by the river.
So it comes as no surprise that the original name of the Crossroads was the Railway Hotel. The Post Office Directory of 1867 gives the licensee as Charles Culverhouse, but by 1871, Alfred Aubert had taken over, who was there until his death in 1899 when he was succeeded by his widow Mary Ann. She carried on until 1906. The Railway Hotel seems to have been owned from the start by a Mr Chandler of Charlton, who in turn left it to a Miss Ruth Chandler of Richmond, presumably a daughter. By the time of the Inland Revenue Survey in 1915, she had been married and became Madame Ruth von Quitzow of Upper Norwood. The survey gave the accommodation as a saloon bar, general bar and tap room, dining room, kitchen and scullery with four bedrooms and three servants bedrooms upstairs. At the back were a stable and coach house.
Unlike most of the local pubs who were owned or supplied by local breweries, the Railway Hotel was able to bring in beer from Marston's of Burton-on-Trent by train, presumably it was cheaper from a large brewery.
In the 1960s the Railway Hotel was renamed the Crossroads Inn, and a single-storey extension was made to the front and side. It was eventually demolished in 2012 to make way for the new development.
There is more information about Shepperton's pubs in The History of Shepperton's Pubs', published by Sunbury and Shepperton Local History Society. The next meeting of the Society is at 8pm on Tuesday 15th January at Halliford School, when the subject will be 'Surrey on Film 1914-53'.