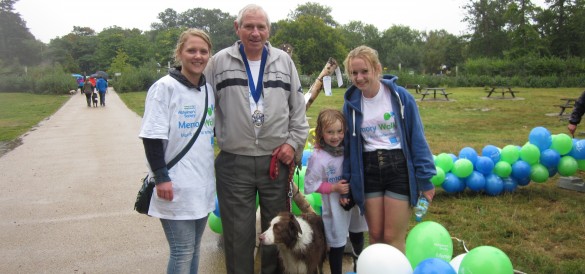 It was a sunny autumn day when I went to meet Mayor of Spelthorne, Robin Sider at his home in Shepperton. I was greeted warmly by Molly the Collie, followed by some light ballroom music on the keyboards from Robin. This was a good start to an interview, I thought! Robin taught himself keyboards and now shares his skill at old peoples' homes, playing uplifting old classics to entertain residents.
I already realised how busy Robin is, having either bumped into him, or heard about his attendance at so many local events. It became clear as we spoke, that this man must surely never sleep! As well as his mayoral duties, which are many, he also has his council responsibilities, and on top of that, spends his time doing volunteer work. He is President of the Spelthorne Multiple Sclerosis Society and The Hope Stroke club, and Chairman of Shepperton Horticultural Association. The previous weekend he had joined the Memory Walk around Virginia Water, and together with Molly the Collie, they had lapped the lake twice.
If you want a job done properly, ask a busy person! Robin's background in the army, where he rose to the rank of Major, included personnel selection and management, culminating in being in charge of army recruitment for Surrey and West Sussex. His people skills clearly stood him in good stead for the roles he moved into. After 40 years in the army he moved into local politics, becoming a councillor 14 years ago. He admits that the move from army to council was rather a culture shift, but his approach to it certainly seems to have worked. He does not believe in change for change's sake, but sets out to get people behind him, listening to their point of view and making decisions in a calm and measured manner. As an elected councillor he believes in being accountable to the community and he is available 24/7. His motto is "treat others as you would be treated yourself". He comes across as open, caring, genuine and very approachable.
He is immensely proud of Shepperton where he has lived for over 30 years. Citing the recent triumph of the village in the South East in Bloom competition, he says it shows the spirit of community where people pulled together despite the hosepipe ban. Our Mayor is a nurturer for sure. He rises early, walks Molly, collects the paper for an elderly neighbour, then comes home, feeds the birds in the garden, the fish in his pond, Molly the Collie and finally takes tea up to his wife. All creatures great and small!