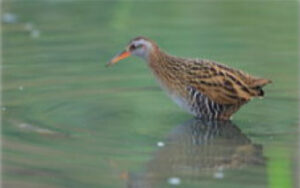 It is said that Bird Watching is very good for your mental health, not to mention getting fresh air and exercise. A recent Radio 4 programme said that it enables us to forget the troubles of the day and just enjoy the sights and sounds of nature. Cow Common is the perfect place to enjoy Bird Watching.
At this time of year, there are a very large number of birds all singing and fighting for territory. Apart from the usual garden birds which we all know (Blackbirds, Thrush, Robins, Wren, Blue Tits etc) there are a large number of Spring and Summer arrivals. My particular favourite is the Blackcap which has a very melodious song, there a many of them in the woodland areas and along the river bank, along with the Chiffchaff. Many birds you can hear and not necessarily see such as the Green and Greater Spotted Woodpeckers, Willow Warblers, Cettis Warblers, Gold Finches and many others.
The two rivers (the Ember and the Mole) attract a number of birds which can be seen most days: Heron, Cormorant, Mallard, Canada Goose, Common Tern, Water Rail, Herring Gull and of course the Kingfisher dashing along the river flashing its beautiful colours.
My wife along with a lot of people find it difficult to identify each bird, so I use the RSPB website and if you listen to the sound of each bird you can get to know them.
You can of course go bird watching at all times of the year but now it is glorious, try it!
by Molesey Matters Reader Chris Marke