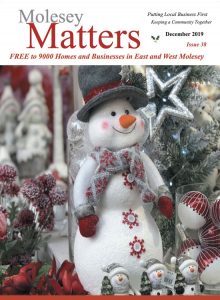 Happy Christmas Molesey! Magical Molesey has already been and gone, but don't forget the Bridge Road Winter Wander on Thursday December5th. Christmas is now firmly in sight.
This month we look at Christmas shopping in Molesey in 1907, the history of the Christmas tree, and how to have a crisis free Christmas. We look at how to care for our hedgehogs during the cold season, tips for driving in winter , and look into experiential gifts for friends and family.
We also take a look at how to avoid Christmas allergies flaring up. Della Reynolds, our roving reporter writes about the Refresh Centre in Walton Road and as usual we have updates from the MRA and Friends of Fleetside. Our local MP, Dominic Raab, does not feature this month due to the General Election.
I hope you all have a fantastic Christmas and look forward to seeing you all in 2020.