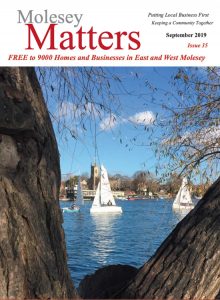 This issue marks three years of Molesey Matters. Time has flown so fast, and I can honestly say I have enjoyed every minute. I have met so many incredible people and I have learned so much more about the community in which we live.
Here's to the next three years!
This month we focus on schools. We discuss subjects as diverse as pastoral care, what to think about when considering an independent school, could hypnotherapy help your child, what are parental expectations regarding a school and exactly what do you need to know when looking at Prep and Pre Prep Schools.
We hear from four Horse Rangers, who between them have dedicated 70 years to the charity.
Della Reynolds, our Roving Reporter continues her series focussing on the Bike Ride that passes through every year. And we look at the history of Imber Court as is turns 100.
Both the MRA and Dominic Raab share their updates, as do the Friends of Fleetside.
Enjoy the issue and see you next month.