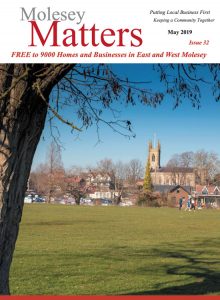 Welcome to the May issue. Easter has now gone, spring is firmly here and next month's issue will be the first of summer. Fantastic.
The Molesey Carnival is just round the corner, a true sign of the good things to come, as is the Walton Beer Festival.
In this month's issue, we take a look at the game of real tennis and invite you all for a great day out in Bushy Park for Chestnut Sunday.
In fact there are quite a few things in the magazine to keep you busy this month.
Molesey now also has its own permanent 'boules' terrain in Hurst Park. Open to all it will make for fun in the sun in the coming months.
Our roving reporter, Della Reynolds this month takes a look at the thorny issue of getting a doctor's appointment at our local surgeries, and with National Vegetarian Week falling this month the recipe is naturally meat free.
Also check out on page 35 a new plea and initiative to support our local independent shops and
businesses.
Have a great May and see you next month.