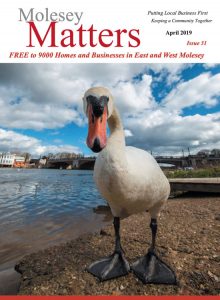 Welcome to the April issue. The clocks have gone forward and the evenings are starting to get lighter. Spring is pushing through. Time to get the garden in order.
Easter is upon us. Take the kids to the egg hunt at Hampton Court Palace. It's always a hoot. In this issue we hear of an
unsolved possible local murder.
We also learn of a Molesey born World War 2 hero who recently passed way, and of the 'Personality of the Month' from the Molesey Review of 1955, Major William H Smith. Della Reynolds, our Molesey Matters roving reporter, delves into how to look after your heart, and Hanson's Auctioneers give us all an opportunity to find out if we have treasure lurking at home. See pages 16 and 17.
LoveMolesey would also like your help. Page 24 has all the details. It's all about community.
Dominic Raab, who I guess as I write this is a busy man, also updates us on all things Molesey.
Enjoy April and see you next month.