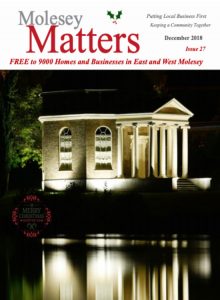 A Happy Christmas and a wonderful New Year to you all.
Magical Molesey has already been and gone, but do remember that the Bridge Road Winter Wander would love to see you on Thurs day 6th December between 4 and 8pm.
It does seem to me that this year has gone really fast. Christmas already! Next year also represents the 3rd year of publication for Molesey Matters. That's gone fast too!
In this month's issue we celebrate the birthday of the first Christmas Card, we also have an update from the Reclaim our Riverbank campaign. From the response to last month's piece it seems that it's a big issue for all of us. On Page 12 we have an impassioned piece about continuing to feed our swans with bread, we also see the start of a new monthly
feature – the Molesey Matters Roving Reporter. Della Reynolds takes up the reins of Molesey "out and about".
Along with our other regular features, Dominic Raab, who himself has had quite a month, talks about all things Molesey.
Happy Christmas! See you in
January.