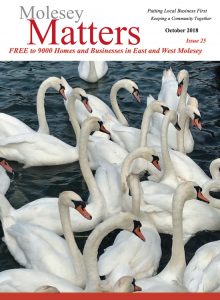 As I sit here, summer is definitely over. The recent rain brought us a leaky roof. Builders have been called. Batten down the hatches! So what's in Molesey Matters this month?
After reading of Faraday House recently we learn of another resident – suffragette Princess Sophia Singh. Last months 'Great Stink' piece has a follow up after we were told about a beautiful building designed to became the Victorian solution..
Halloween is almost upon us, so we take a look at the origins of Mary Shelly's Frankenstein, whilst also learning of the
Mexican Festival 'The Day of The Dead', Della continues her Urban Wildlife blog, and our very own MP, Dominic Raab, updates us on all things Molesey.
He has also been a good sport, recently abseiling down St Mary's in Walton, for Heritage Day (as did I!). Also the 'Protect your Cats' article on page is not quite what it seems. Take note!
We have teamed up with the Riverhouse Barn in Walton. Take advantage of this months exclusive discounts.
Michael Underwood
Princess Singh
Protect Your Cats!