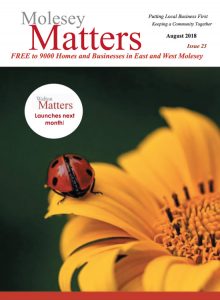 Wow hasn't the weather been hot!! As I write, I am looking forward to another day in the 30's! I am old enough though, to remember 1976, which
triggered the most significant drought for at least the last 150 years. We are not there yet, but some rain would be good! On other matters, football didn't come home , but we all still enjoyed the journey! Many congratulations to our French friends.
In this month's issue we hear of the pioneers who started Roberts Radio in Molesey. We learn of the Knox brothers. Both significant contributors to Molesey life. A new page is dedicated to those of us in the community who go out of our way to help others. (Page 17), and the Friends of Fleetside provide their monthly update. Della continues her Urban Wildlife Garden.
The MRA also bring us up to speed with all things Molesey and our local MP Dominic Raab continues his column since being made Brexit Secretary. The world is watching, Dominic!!
See you in September