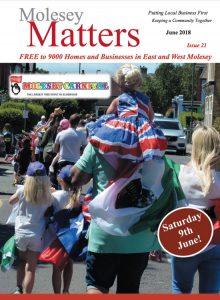 Well last month we had the royal wedding, this month it's Molesey Carnival time! The update is on Page 27. For me this year, I am looking forward to the pig racing! Sounds hilarious. I also went along to couple of the street parties last month, and was fortunate to meet the then, newly crowned, Carnival Princess for 2018, May Sullivan. Be sure to give May a cheer and a wave on June 9th! Inside the magazine this month, and with our own regatta almost upon us, we look at the 1st Henley Regatta. We hear about the thorny issue of pavement parking, and Molesey Matters reader Chris Marke, talks about the fabulous birdwatching on Cow Common.
Following the local elections last month, Molesey Matters gives both Ruby Ahmed and Steve Bax the opportunity to address us all regarding their forthcoming plans. Dominic Raab discusses local schooling, and of course Della continues her urban wildlife blog.
Please also do not forget Father's Day on June 17th.
Have fun at the Carnival, and don't forget the pig racing!!