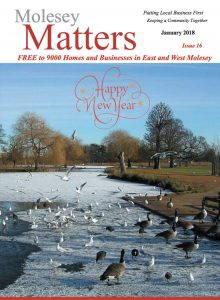 Happy New Year to everyone! I hope you all had a fantastic break, and are ready for all that another year entails. The Winter Wander and Magical Molesey were brilliant successes, and a massive congratulations to all that were involved. What a great place to live.
For the first issue of the year we look at the last frost fair to be held on the Thames, hear about Britain's first lottery held by Elizabeth I, and Molesey Matters has tea with the Chief Constable of Surrey and asks him about both the rise in burglaries and anti-social behaviour in the county. We also look at the battle to save Henry VII's hunting lodge, Hanworth Park House. Della pens her first blog of the year, and we are updated by the Residents Association.
Stay warm and see you all in February!