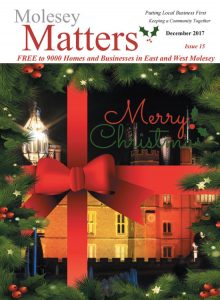 In this month's issue we look at the rise of a true star, Molesey resident Petula Clark. The history of the Christmas classic, A Christmas Carol is also featured ,and we hear about the "Tanners Bridge" painting that hangs in the Molesey library. We also learn of some of the weird and wacky Christmas traditions from around the world.
A Merry Christmas and a Happy New Year to you all!
Don't forget "Magical Molesey" on Dec 6th and the Bridge Road "Winter Wander" on Dec 7th. After both these fantastic
community events, Christmas truly will have begun for us Moleseyites!
Also look out in the magazine for the events at both St Paul's and St Mary's!
Have a great Christmas and see you all in January