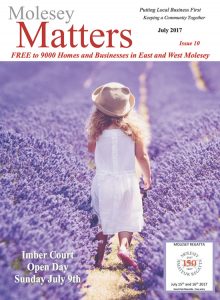 Well the sun did come out for Carnival Day! Congratulations to all involved, in both the set up and of course to the community as a whole for joining in. I mentioned in last month's issue that I might try the Zorb racing! I have to admit that as a man prone to injury I decided to watch instead. Looked great fun though. A list of the float winners is listed on Page 16.
In this month's issue we look at the history of Molesey FC before the new season begins next month. I also have a message to challenge all of us to go local and use our local shops. We also on the 300th anniversary of the death of Jane Austen, ask was she poisoned? We learn about the anniversary of the first performance of Handel's Water Music on the Thames.
Della continues her Urban Wildlife Blog and the Molesey Residents Association update us on developments regarding our green spaces and the Molesey Hospital. Dominic Raab also talks to us for the first time since his re-election.
See you in August.