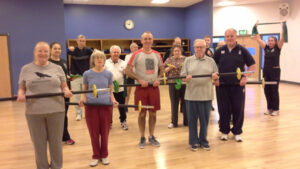 The GP referral scheme run by Elmbridge Borough Council is dedicated to keeping you fit and healthy, whether you're living with a health condition or looking for support and guidance. If you feel overwhelmed by exercise or need a programme suited to specific health problems, we are here to help you.
Our classes and sessions are designed to suit your own personal needs and goals. They take place in a friendly, relaxed and motivational environment. We work hard but always have fun along the way.
There are exercise classes available for all levels and abilities in Thames Ditton, Claygate, Cobham, Hersham, Molesey, Walton-on-Thames and Weybridge. These low-cost sessions are designed to improve muscle tone, balance, strength, and mood. You can choose what is best suited to you:
Falls prevention exercise classes: designed to get you more confident on your feet, build up your strength, improve your balance and stay safe.
Cancer rehabilitation classes: if you live with or have survived cancer, you will benefit from these structured sessions held in a welcoming and positive environment.
Paracise classes (available in Hersham and Molesey). Low impact innovative exercise with no floor work. Designed to improve posture, balance, mobility, flexibility and muscle memory. Great music to invigorate you and put a spring in your step. Suitable for osteoporosis, osteopenia, arthritis, fibromyalgia etc.
Seated Yoga to explore and enjoy the benefits of yoga's physical and mental wellbeing.
If you want to give any of the above classes locally, you can find more information at elmbridge.gov.uk/leisure, email health@elmbridge.gov.uk or call 01372 474 574 to talk to the Health Development Officer.