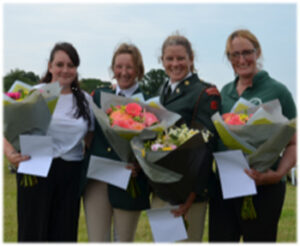 Local children's charity, the Horse Rangers, has been celebrating the work of four staff members who between them have given seventy years of service to the Hampton Court organisation.
Theresa Barrett from Claygate has been with the charity for twenty-five years; Georgie Rider from Hampton twenty years; Becky May from Sunbury on Thames fifteen years; and Kerry Bedford from Leatherhead ten years.
Theresa joined Horse Rangers at the tender age of eight and progressed through the organisation to become our chief instructor and ultimately Stable Manager. Theresa is responsible for the day-to-day management of her team and the wellbeing of the horses. She has a keen interest in the veterinary side and has formed very good relations with the yard vet and the equine hospital, who look after our horses.
In addition to her weekday work at the stables, Theresa continues to be an active officer and instructor in Squadron 3 on Sundays. Theresa is a BHS AI and is our Chief Instructor. She works closely with Alistair Blamire, instructor and HRA equitation officer, on the training and development we give to our Rangers, Officers and Instructors. She runs successful riding clinics during the holidays for Rangers hoping to improve their riding, and is always on hand to give advice when needed. Theresa is lead rider in our Musical Ride Display.
Georgie joined Squadron 5 at eight years of age and recalls that Sandal was the first pony she ever rode. She moved up to Squadron 3 where she remains an active officer and instructor. Georgie joined HRA's stable staff in 1999 and was promoted to Theresa's deputy six years later. Georgie is a fantastic fundraiser and each year raises hundreds of pounds for the charity. Georgie has been a member of the Musical Ride Display Team since she was 18.
Becky joined HRA in 2004. Prior to this she worked in the animal department at Squires Garden Centre. She then completed a National Diploma in Equine Studies at Guilford College Merrist Wood Campus. Becky has been riding since she was nine and has a great love for all animals, she will often be in the forefront of any animal rescue. As deputy manager she supports Theresa in the day-to-day running of the yard, and is always willing to lend a hand during the Ranger special events. She has a natural ability with our greener horses on the yard and enjoys bringing them on. She also has a great talent at photography and can often be seen taking photos at our events.
Kerry became a Horse Ranger in 2000, originally as a member of Squadron 5 before joining Squadron 2. During her teens she was also part of the Musical Ride Display Team. She has always loved being around the young people and horses and learning new things. Kerry became a member of the stable staff in 2009.
Jeremy Schomberg, Chairman of the Trustees, pays tribute to their dedication: "These are tough, demanding jobs, often requiring the girls to work in adverse weather and for long hours, but they do it for love of the horses under their care which they treat as if they were their children. The fact that Theresa, Georgie, Becky and Kerry have been with us for so long serves as testament to what a unique organisation Horse Rangers is and I'd like to thank them from all of us for their dedication and hard work."
A token of the HRA's appreciation was presented, to the four long-serving members, at the HRA annual Awards Day on the 23rd June together with a handmade cake depicting their favourite horses.