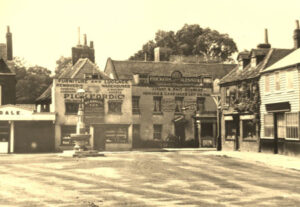 The Duke's Head formed part of a group of buildings that dated back hundreds of years and were central to the character and identity of the old town. The buildings were cleared away for the creation of Hepworth Way and the redevelopment of the west side of Bridge Street in the 1960s.
Records of an inn at the junction of Bridge Street and High Street go back to 1792 and a brick with the date 1791 was found during demolition, suggesting alterations to the building at that time. This was also the date of the celebrated marriage of Frederica Charlotte of Prussia to Frederick ('The Grand Old') Duke of York who owned nearby Oatlands House and after whom the inn was possibly named.
The innkeepers changed frequently in the 19th century but included Mary Crop who ran the inn for nearly 30 years between 1817 and 1845. During this time it was the venue for property auctions but also where a coach to London left each day at 8 a.m. in the summer and 8.45 in the winter. In December 1870 the 'Duke's Head Commercial Hotel', under the new management of Henry Laing, was seeking the 'attention of gentlemen visiting this picturesque neighbourhood.' Carriages and horses could be hired at the inn and stabling was available.
Rooms were let for meetings and receptions. In August 1884 the West Surrey Times reported that after a cricket match between the Gardeners of Walton and the Gardeners of Kingston at Ashley Park, the players and their friends adjourned to the Dukes Head, and in December 1893 the tradesmen of Walton 'sat down in large numbers at an excellent dinner' there.
For a few years after 1918 the Ashley Park Lodge of the Odd Fellows met at the inn. Another item found on the demolition site was a Kingston-made clay tobacco pipe decorated with masonic symbols.
The inn closed in December 1966 and a new Duke's Head was opened a few yards away in Hepworth Way. The old building remained boarded up until its demolition in 1970. Carpetright currently occupies the site.
References: Inns and Taverns of Walton and Weybridge; A.G.Martin. Walton and Weybridge Local History Society 1999. Dial Stone (News sheet of the WWLHS) No.37. British Newspaper Archive. Photos: The Duke's Head (right of centre, facing) c.1900; private collection. No.1 Bridge Street from Church Street 2019 by the author.