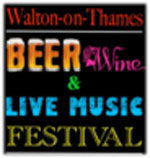 Firstly, FOR YOU: The festival is a lovely social night out close to the town centre in a picturesque setting at Walton Cricket Club. It's a perfect event to meet up with friends and enjoy some fabulous live music, a selection of scrummy foods and a glass of your favourite tipple.
It's very good value too with a low-ticket price of £12.50 with (no booking fee) and includes a festival beer or gin glass you can take home. A wide choice of quality foods and drinks including selected Real ales, Ciders, Gin cocktails, Prosecco, Red, White & Rose wines and a fully stocked bar. All at very reasonable social club prices. Hey ho!
Secondly, FOR LOCAL MUSICIANS: Headlining on Saturday night is well-known local band Jafuso Blue comprising of five highly talented musicians formed over 10 years ago. Lead singer Charlotte Beattie who graduated from ACM Guildford works in Escape Hair & Beauty in Thames street and local Walton boy Iain Simpson, an experienced band leader plays keyboard and teaches guitar.
The band line-up is completed by ultra-cool professional base player Mike Pratt, music teacher Russell Jarret and teacher, songwriter, phenomenal drummer and multi-instrumentalist Travis Marc. The energy and friendship between the band members is noticeable and hence always creates a vibrant, entertaining atmosphere. Together, they've played all over the UK, entertaining at weddings, parties, charity events, local pubs and hotels.
Thirdly, FOR LOCAL BUSINESSES: Local food vendor The Noodle Pod is based in Walton and their iconic pod on wheels is often seen at many local public and private events. They offer a varied Asian menu of dishes using freshly prepared ingredients for all tastes. Walton festival also supports the award winning local chef 'Cue the Feast' and mobile wood fired caterer Stoked. Perhaps you have seen them around Walton.
Fourthly FOR THE LOCAL COMMUNITY: The event organisers ensure that 100% of proceeds go to local Not For profit Charitable causes like Music in Hospitals & Care who have strong local links here in Elmbridge and thanks to the engagement, generous support and donations of community partners like Walton Cricket Club can ensure music provision continues in a diverse range of care. From Sherwood House Care Home and Fernleigh Activity Centre to Walton Leigh School and Princess Alice Hospice. They work together to ensure we make people feel better and bring joy through live music to those who need it most. Their musicians' performances simply couldn't take place without the contributions, donations and time given by our amazing supporters.
A Music in Hospitals & Care performance lasts just over an hour, but musicians provide more than just live music. They arrive in good time for their performance, allowing time to meet their audience, and stay to chat with audience members about the kind of day they have had or the memories the music has sparked.
Research shows that sharing the experience of a live musical performance can help reduce levels of anxiety, pain and depression, as well as break down social and cultural barriers. This is particularly welcomed by patients who have little contact with relatives or friends.
Walton-on Thames Festival continues to support and showcase Walton Talent in the Community!