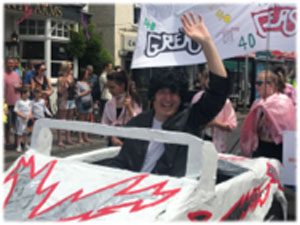 It feels like summer is finally here! And that means Molesey Carnival on Saturday 8th June. Here is a little update on where we are at
Molesey Carnival HQ:
Floats
We are delighted to welcome a lot of our regular paraders and organisations this year, in partiular the local schools, Chandlers Field, Hurst Park, and the Orchard School – all make a brilliant effort every year! Trophies are awarded to the most outstanding floats – good luck to everyone, and we look forward to seeing your wonderful and colourful creations.
Arena and Stalls
Clown Bluey and his crazy fire engine FIRE1 will be here this year for the whole family to enjoy and get involved with. Around the
arena there will be fundraising stalls, and this year we have invited a few local makers and independent businesses in Molesey for everyone to enjoy – look out for the Founders trophy which is awarded to the best stall.
If you have a dog in your family, why not enter them for the Novelty Dog Show – pick up a programme for more details. It's very popular every year, and lots of fun.
Event Programme
Please support us this year by buying a programme for £1 from local shops including The Card Collection, Miss Polly Café, and Molesey Football Club amongst others. All funds raised will ensure a Carnival for 2020. We've been very lucky this year to have had so many lovely prizes donated by local businesses, so make sure you enter the Prize Draw. And don't forget to use your 10% off voucher at Miss Polly's – the coffee is great!
Molesey Bake Off
Don't forget to pick up an entry pack from Miss Polly Café to participate in the Molesey Bake Off. Bakes will be judged on the day by Miranda, President of Molesey WI and Dale from Miss Polly Café. Entry is FREE and there is a junior and adult category with prizes for the winners. We look forward to tasting your cake creations again! Good luck to everyone.
Happy Carnival everyone, and we do hope you all have a lovely day! Look out for the July issue of Molesey Matters for Carnival highlights.
Finally a big thank you to all our supporters and sponsors for this Carnival – Armadillo Storage, Parkhurst Hire, Molesey Business Association, 4 Print, Molesey Matters Magazine, and Miss Polly Café – we simply couldn't put on the Carnival without your generous support!