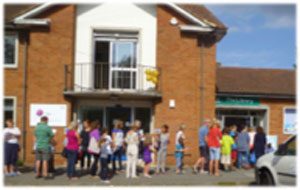 In these days of continuing belt-tightening it is a marvel to think that we can still borrow books (up to 20 at a time) use the internet or hire a recent film at our own Molesey Library.
The Friends of Molesey Library are a group of local residents who recognise what a community asset our local library is. We got together around seven years ago to try to raise a little money to pay for enhancements and to find ways to encourage Molesey folk to use their library more.
Over the years we've paid for new furniture and signage, carpet cleaning and installed art and photo attractions. We also started introduced events that have proven quite popular, such as Friday coffee and cake mornings, Love Your Library day and our Meet the Author evening events.
We are mid-way through our current run of talks by leading authors. Recent talks have been by former British Ambassadors, Travel Writers, and well-known novelists. In February, we were joined by Stuart Laing, a former British Ambassador in Kuwait, who spoke entertainingly about his time in the diplomatic service and his biography of Tippu Tip, an Arab ivory trader of the late 19th Century.
Then in April the library hosted Harriet Sandys for a talk entitled 'Beyond That Last Blue Mountain' – also the title of her book. Her talk was full of interesting snippets from her travels and accompanied by slides. Despite worrying about advanced ticket sales, we got a good crowd on the night and a good time was had. As ever, the proceeds from our author events are reinvested in the library.
We're planning our next event on 24 September. It will be a talk from Robin Driscoll, who wrote scripts for the much-loved Mr Bean TV series starring Rowan Atkinson, and who now writes thrillers! And rounding off the year, in November, the Friends will be hosting Kate Thompson, a journalist, author and ghost writer from Teddington, who will be revealing the secrets of her trade.Look out for posters advertising the events in the Library and on our website: moleseylibraryfriends.org.uk
What else is going on at Molesey Library? Well, there are a number of events throughout the year for children. Rhyme Time is on Wednesday and Thursday from 11am and Story Time with related activities takes place every Saturday at 11am. Under fives can also have their own Pebble Card and borrow up to 20 Board Books at a time.
Joining the Library couldn't be easier. All Surrey residents with an email address can sign-up at www.surreycc.gov.uk/libraries or in person at the library with one form of identification. Those wishing to support the continuation of Library Services in a practical way may also join the Friends of Molesey Library free of charge. Registration cards may be obtained from the Library.
If you are already a member and haven't been to Molesey Library in a while, please make a special effort. A wide selection of books, audio and DVDs are waiting, and you'll be helping to keep the footfall healthy. Molesey Library is at The Forum. Walton Road, West Molesey KT8 2HZ, next door to the Molesey Clinic. Thanks for reading!