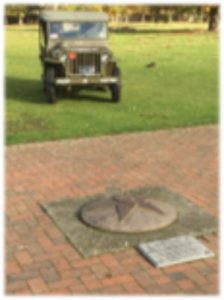 75 years ago, on the 6 June, 1944, the largest seaborne invasion force in history set sail for France on a mission to liberate Europe.
Each man carried a pack, a rifle, and the world's hopes for freedom. Normandy will bear the scars of this moment in history for ever and every year they remember and pay tribute to the veterans from America, Britain, Canada, Belgium, Denmark, Holland, Norway, Poland and Australia, along with their brothers in arms, those many heroes who lost their lives during that summer of 1944.
If they didn't succeed at this crucial point during World War II, Hitler would have the chance to mount a last-minute effort to save Germany – launching his new V-weapons against British cities. This day would go down in history as D-Day.
On 5 June 2019, the Daks (Dakotas) Over Normandy event will take place.
About 250 men and women will board an aircraft in the United Kingdom, exactly like 75 years before, and fly across the English Channel where they will finally jump into the historic drop zones of Normandy. They will be wearing WWII style Allied uniforms and will jump military round parachutes.
It will be an event which has no equal.On 6th June 2019, two members of the Regiment of Sharpshooters from Molesey, will go to Normandy to remember their fallen.
In 1944 the Croydon based regiment landed on Gold Beach . In an early attempt to break out, they ran into unexpected German armoured reinforcements at Villers Bocage, losing Regimental Headquarters and one squadron.
Martin Tatnell and Richard Doxford, both who served in the Sharpshooters together, and have been friends since their days in the 1st Molesey Sea Scouts, will be driving through Molesey around midday on 5th June on their way to
Normandy. They will be driving there in a very special vehicle. Their WW2 Jeep has been totally rebuilt by Martin who, it is fair to say, has spent many manhours getting it right.
Our own Bushy Park played an important role. In 1942 construction began on Camp Griffiss, a 60 acre site, created on requisitioned land in Bushy Park to house the Eighth Air Force, a strategic bombing force. This base was later was chosen by General Dwight Eisenhower as the location for Supreme Headquarters Allied Expeditionary Force (SHAEF), deliberately away from central London to minimise the risk from air attacks.
There is a plaque near the SHAEF Gate on the Hampton side of the park.
The letters on Martin's and Richard's Jeep will proudly bear the anacronym SHAEF. If you see them, do cheer them on.