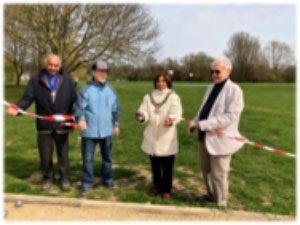 Or "Boules pitch" to you and me! The official opening of the Hurst Park Petanque Terrain was on Sunday, 31st March at the specially constructed pitch on Hurst riverside, just south of the Sadlers Ride car park. The opening ceremony was organised by the Hurst Park Petanque Club, and performed by Elmbridge Mayor, Councillor Shweta Kapadia and her Consort Mr Ramesh Kapadia.
In his opening address, Club Chairman Ian Donaldson welcomed the guests along with the sizeable audience of both members and guests.
He thanked the Club committee for all their efforts with particular emphasis on the Club Secretary, Peter Parker who had been the driving force behind the project from initiation to completion, including negotiation with the Council for funding from the Community Infrastructure Levy (CIL), and with Hurst Park Residents' Association.
Additional thanks were given to Ian Gayton from Elmbridge Borough Council for overseeing the construction and to MRA Councillor Mike Axton who was instrumental in steering the project through the whole process.
The Mayor responded and said how pleased she was to have been invited to perform the official opening and praised all those involved in what was a splendid example of community work and a real life example of the use of CIL funding.
She then cut the tape to officially open the terrain and played a few ends with her Consort, who turned out to be a really good player despite never having thrown a boule before – or so he claimed! To celebrate the occasion, glasses of Kir Royale were offered to guests to put a French stamp on the proceedings.
The rest of the afternoon was spent by members and guests attempting to hone their Petanque skills. The Petanque terrain is open for everybody to play boules at any time, other than on Wednesday evenings and Sunday afternoons when it is reserved for Hurst Park Petanque Club members. It is already well used by local residents and visitors alike.
As Ian Donaldson said, "It's a really great game which can be enjoyed by everyone no matter how proficient they are and in any weather -and boy, have we played in some
terrible weather!"