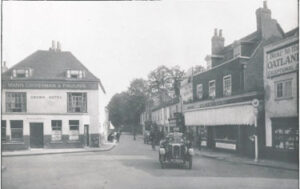 The Crown Hotel stood on the corner of Church Street and High Street at the heart of Walton's old commercial centre. Formerly known as the Crown Inn, the earliest reference to it is in 1722 in the Will of Thomas Day, but by 1729 Joseph Goodchild was licensed to keep an alehouse there.
In June 1760 the Crown was insured with the Hand-in-Hand Fire Insurance Company. It was described as being on the corner of the road leading from Walton to Guildford, and consisting of a house of two stories with lofts, a storehouse, stable, thatched stable and a thatched barn.
There was a great turnover of innkeepers over the years, some staying only for a year or two. In 1782 it was leased to Thomas Cooper and in 1799 sold to the Cooper family, a local firm of Brewers, but by the late 19th Century it had come into the possession of Mann, Crossman and Paulin. Local property auctions were held there in the early 20th Century and an advertisement in a 1931 souvenir brochure shows the Crown Hotel as licensed for music singing and dancing -with accommodation for 25 couples.
The Church Street frontage of the property was a cement–rendered square structure with a hipped roof and an equally plain ground floor extension. This, however, all concealed a much earlier building that probably dated back to the 1500s, the double-pitched roof of which was visible from the High Street.
The Crown was demolished in 1961 and replaced by Crown House, comprising shops with offices above. The offices have now been converted to flats.
John C Pulford