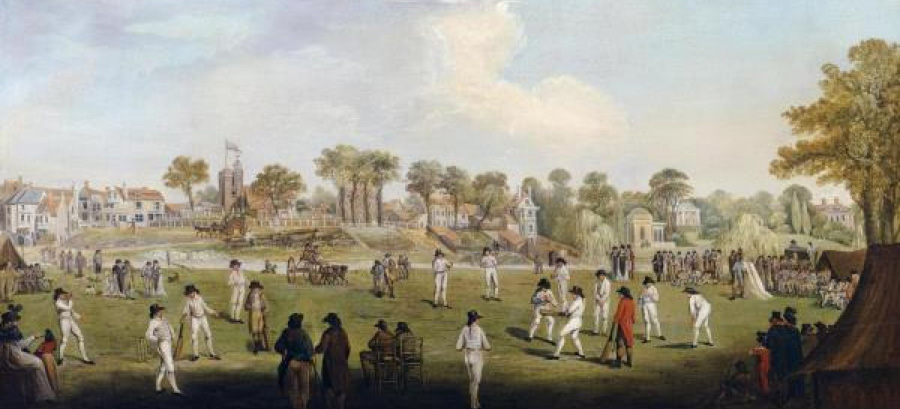 John Tufton (23 November 1773 – 27 May 1799) was an English cricketer and a Member of Parliament (MP). He was a member of the aristocratic Tufton family that produced the Earls of Thanet and related through his mother to the Sackville family that produced the Dukes of Dorset.
As a cricketer, Tufton is known to have been active from 1793 to 1798 and is recorded in 74 matches by CricketArchive, 48 of which are designated first-class. He represented numerous teams but is mainly associated with Marylebone Cricket Club, of which he was an early member at Lord's Old Ground.
Tufton's batting hand and bowling speed are unknown, though he was primarily a batsman who bowled occasionally, always underarm. He scored 1,049 known first-class runs with a highest score of 61 and is credited with fourteen first-class wickets including a best performance of four in one innings.
The second of two First-Class matches between XI of Surrey and XIII of England was to begin on August 12, 1795 at Moulsey Hurst. The scorecard shows England to be taking first strike on the first day of the match. Shortly after the game began, Andrew Freemantle was walking back to the pavilion, having been caught by one Thomas Walker, and one-drop batsman John Tufton was walking in to face his first ball.
Before long, John Tufton was also wending his weary way back, having been dismissed lbw, bowled John Wells, brother-in-law of 'Silver Billy' Beldam of cricketing legend and song. This was the first recorded instance in cricket history of a batsman being dismissed leg before wicket in a First-Class match.
In the notes about that game, it says: "In this match, "leg before wicket" is found scored for the first time. In Britcher's printed score-book, Mr J. Tufton is in this match put down as bowled merely, and the leg before wicket added in a note. At first, when any one was got out in this way, it was marked down as simply bowled, and the leg before wicket omitted".
Tufton was the MP for Appleby, Westmorland from 1796 until his death, aged 25, in 1799.
Cricket at Moulsey Hurst © Getty Images
The artist of the painting is unknown. It was given to MCC by Mrs C R Morse in 1885