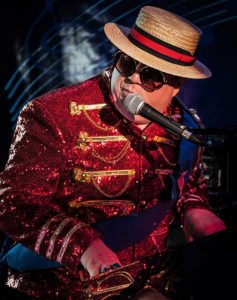 If you saw the John Lewis Christmas ad this year which featured Elton John, then you would have realised that not all of them were the genuine article. The ad started and ended with the real deal and for that cameo role Elton picked up a cool £5 million.
At 71 he is on his final tour before retirement and you can see him right here in London provided you have at least £100 or more to spend on a ticket!
You can sing along to his many top ten hits and be taken back in time to simpler days when music ruled your world and you knew all the words.
If you don't have such deep pockets do not despair, here in Molesey we have our very own Elton John. Elite Elton, aka Kevin Clay, a Molesey man who can get the house rocking in a way that his older counterpart can but wistfully recall.
Kevin has been in the music business for over 25 years playing venues large and small, so he knows how to deliver to a live audience. Just like the man himself, Kevin has been playing the piano since childhood. People have also mentioned that his voice sounded like Elton so, it made sense to set himself up as the top UK Elton John Tribute Act. You can follow Kevin's progress on his website https://www.EliteElton.com
Kevin is not a man to do things by halves and has invested a large amount of money and time on costumes, wigs, glasses (over 100 pairs), jewellery, professional backing tracks and marketing.
In his wardrobe he has a number of lush outfits with shoes to match. Even without the high heels Elite Elton is already head and shoulders above the competition. He has hired the best musicians, filmmakers and costume designers so that he can get the look and sound just right. "When you walk out, before you even hit a note, it's got to look believable".
And there in a nutshell is the appeal of tribute acts. They are keeping the dream alive for those who lived through it the first time and those who grew up with their parents soundtrack from vinyl, to cassette, then Walkman to CD. When you hear Elite Elton perform 'Your Song' or 'Crocodile Rock' if it looks like Elton and sounds like Elton then it might as well be Elton.
So convincing is Kevin that he was booked this year for the John Lewis Christmas Party at Bluewater. John Lewis, never knowingly undersold. He also achieved world notoriety when he turned up in Windsor the day before Harry and Meghan's wedding to be mobbed by the world's paparazzi. He was interviewed on BBC radio due to the amount of attention he was receiving dressed in his Elton John stage clothes. A few minutes before the interview a Frenchman had kissed his feet thinking he had met his idol. In the interview, which you can hear on his website, he was asked how he reacts when people think he is the real Elton. Knowing his skill lies in weaving fantasy with reality, Kevin stays in character throughout and allows them, just for a few minutes, to keep their dream alive.
A new generation are now singing these old songs at various venues round the Molesey area. You can hear them at Henry's Kitchen on a Thursday night or at the Hare and Hounds in Claygate on a Monday. Young souls making their own versions of classics which were written and performed before they were even born. But if you want to see the real Elite Elton then make sure you get a ticket for his one-off performance at the Royal British Legion Club in Molesey, Saturday 2nd March 2019. Check his website for details.
As the sun goes down on Elton John and his final tour dates draw to a close, a new Elton is in the ascendency. Catch him now before you have to pay £100 for a ticket at the O2.