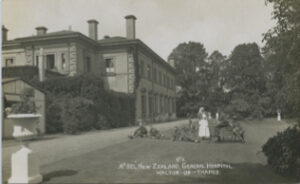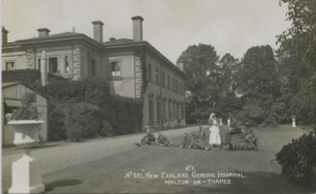 At the outbreak of the First World War, Mount Felix house, a mid-19th century Italianate mansion overlooking the Thames by Walton Bridge, was requisitioned by the War Office for the billeting of troops. After they had departed for the front, it was offered to the New Zealand authorities as a military hospital, to receive the casualties returning from the disastrous Gallipoli campaign in Turkey, an operation in which Australian and New Zealand troops were heavily engaged.
It was officially opened in August 1915 by the New Zealand High Commissioner, Sir Thomas Mackenzie, and within two days wounded soldiers started to arrive. It was the first hospital in this country established for the treatment of 'Kiwi' soldiers, and was largely funded by donations from the people of New Zealand, as well as New Zealanders living in Britain. Three quarters of the medical staff were also from New Zealand.
On 3rd August 1915 King George V, Queen Mary and the Prince of Wales visited the hospital and spoke to every patient. In January 1916, due to the increasing number of patients, five large wooden huts were erected on the opposite side of the approach to Walton Bridge. A pedestrian bridge was built across the road, to enable staff and patients to cross easily between the two sites. Both staff and patients made use of the nearby Thames for recreation, and New Zealanders in their distinctive 'lemon squeezer' hats soon became a common sight in the area. Several married local girls.
Further expansion of the hospital after the increase in casualties at the Battle of the Somme, led to more huts being added, and eventually Oatlands Park Hotel was also acquired to provide more accommodation.
Eventually however, the number of patients treated began to decline as the war reached its end, and the hospital closed its doors in March 1920. Mount Felix and Oatlands Park between them had nearly 1,900 beds and some 27,000 patients had been treated during their operational life. 17 New Zealanders who died whilst at the hospitals lie buried in Walton Cemetery. The new road built from the bridge to the centre of Walton, opened in 1935, was named New Zealand Avenue in memory of Walton's abiding link with the other side of the world.
'The March of the Women – Surrey's Road to the Vote', the story of the local suffragette movement, is the subject of the next meeting of the Sunbury and Shepperton Local History Society. The meeting takes place on Tuesday 20th November at Halliford School in Russell Road, Shepperton, starting at 8pm. All welcome, admission £2 for non-members