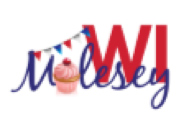 Molesey Matters have always been a big supporter of the Molesey WI. They do fantastic work for the community, and last month I sat down and enjoyed coffee with their President, Miranda Ingold, to hear of their latest project.
Personally, I think it's one of their best yet. A massive help to the wellbeing and safety of our locality.
Miranda herself has lived in Molesey for 30 years and always been at the heart of community volunteering projects, helping for example with Magical Molesey and the Bridge Road Winter Wander. When she heard back in June 2009 that Molesey had recently (April 2009) set up a local WI branch it was too good too miss. Miranda joined up, and together with local mums, Katie Donaldson and Sally Perry put heart and soul in to help create Molesey WI as it is today.
Most people's view of the WI is of people of mature years taking part in sit down activities. Yes, it can be that, but the WI's membership is also bustling with 30 somethings. Activities range from arts and crafts, to food, sport, film, theatre and a varied calendar of speakers. Miranda's view is the WI should be a place where people can learn, take part, enjoy, talk with friends and that ultimately the WI provides a stimulating social environment.
Miranda took over as President in 2017. One of the WI's projects, both she and the committee have concentrated on is bringing in a string of both inspirational and expert speakers to talk to the membership. Recent examples have been, Vicki Cooke, Keeper of the Hampton Court Kitchen Garden and Sally Kettle, adventurer, marathon runner, and author. Sally is the first woman to row the Atlantic Ocean twice from East to West, and once with her mother – earning a coveted Guinness World Record! One such talk set Miranda and the Molesey WI on the path of the project I mentioned at the beginning of the article. The talk was by the Teddington RNLI. Teddington was the first lifeboat station to specifically cover a river rather than estuarial waters.
There are now four lifeboat stations operating on the River Thames. The evening ended with demonstrations and practices with 'throw bags', these are bags of rope that are easy to throw to someone in the water, much easier and safer than life belts. The waterside pubs in Kingston have them, and anyone with a boat is recommended to carry one. This set Miranda and her team to consider why don't we have them in Molesey. Certainly, the number of accidents in recent years warranted a look.
As result, the Molesey WI have purchased a number of 'throw bags' and have agreed for them to be stationed at various points along the river, including The White Swan, The Albany, Thyme by The River and the 1st Molesey Sea Scouts. Other locations are to be announced shortly. Branded with the WI logo, the bags are currently being used to train those who will be responsible. Once the RNLI is satisfied that training has been successful, they will become fully functional. Paid for out of Molesey WI fundraising activities, the WI have also donated to the lifeboat station. Fantastic. Can I just say a big thankyou to Miranda and the WI from all of us who live by, or enjoy the river. True Community Spirt