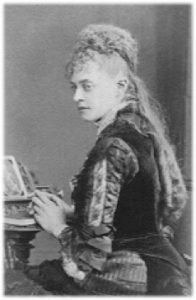 Frederica was born 9 January 1848 in Hanover, the elder daughter of the Hereditary Prince of Hanover (later King George V of Hanover) and of his wife, Princess Marie of Saxe-Altenburg.
She held the title of Princess with the style Her Royal Highness in Hanover. In the United Kingdom, she held the title of Princess with the style Her Highness as a male-line great-granddaughter of King George III. She was known as "Lily" within her family. Frederica was courted by her second cousin, Prince Leopold, Duke of Albany (with whom she later became lifelong friends and confidantes),and by Alexander, Prince of Orange.
Frederica, however, was in love with Baron Alfons von Pawel-Rammingen (1843-1932), the son of a government official of the Duchy of Saxe-Coburg and Gotha. Alfons had served as an equerry to Frederica's father Alfons was naturalised as a British subject on 19 March 1880 and, on 24 April 1880, he and Frederica were married. The wedding took place in Windsor Castle presided by the Bishop of Oxford.
After their marriage Frederica and Alfons lived in an apartment at Hampton Court Palace. The apartment was in the south-west wing of the west front of the palace in the suite formerly called the "Lady Housekeeper's Lodgings". Frederica and Alfons had one daughter who was born and died at Hampton Court Palace: Frederica was involved with numerous charitable activities.
In August 1881 she established the Convalescent Home, an institution for poor women who have given birth but have been discharged from maternity hospitals. It opened in 1882 at a location called Corfe House, which was on the site of the present day No 45 Arnison Road.
The Home moved after three years to a house a house called "Annandale" which is now the fantastic Kingfisher Court in Bridge Road, opposite Smilessence.
It closed in December 1896 as it had run out of money. The contents were auctioned off on 20th January 1897, with part of the proceeds, going to the cottage hospital. Kingfisher Court apparently was given the name by Hon Francis de Moleyn when he spotted kingfishers on the river on one of his earlier visits to the building site which overlooks the River Mole.