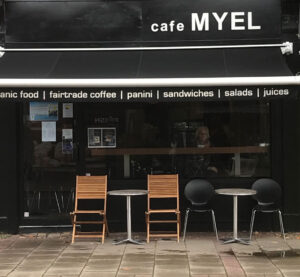 In the week that Debenhams announces closures I took a walk to my local shops in Walton Road, East Molesey. These shops largely survived the crash of 2008 but ten years on and a number of them are deciding its time to pack up and go.
Keith Lovell who has run Molesey DIY for 32 years told me that footfall to his shop is down by 40 – 50% this year and he is angry that both central and local government have failed to support small shops against the threat of on-line retailers. Central government have been slow to level the playing field by raising taxes on multinationals such as Amazon and recent budget cuts to business rates won't help our local shops as they are mostly below the £12,000 rateable value.
Local government, starved of funds by central government, have introduced car parking charges and draconian warden rounds which prevent shoppers from popping in or loading heavy items by parking in the street. "They just can't do it." he said with genuine anger. What he called 'overbearing' traffic wardens slap a ticket on regardless of the 20-minute loading time. Every time this happens he loses another customer.
Keith told me that, "the Federation of Small Business say that every high street should have one hour of free parking and a bank." East Molesey has neither of these now and under pressure the local council have provided just three hours of free parking on a Saturday, but you still need to get a ticket from the machine which catches many people out. It's not enough according to Keith.
A customer in the shop at the time told me that she liked to use the shops for the chat and sense of community and certainly Keith gives expert advice when it comes to DIY which he throws in free of charge. You don't get that on-line.
The Blue Ribbon cake decoration shop has closed along with the School Uniform shop and just this month the Discount Shop closed its shutters for the last time. On Magical Molesey evening the children would gather in the Discount Shop for a fairy-light story with Santa. I don't suppose that Poundland will be taking on that role this year.
If we want to see to keep our community alive then we need to use our independent shops and spend locally this Christmas season and beyond.
As times change new opportunities present themselves with shops adapting to provide the kind of experiences you can't get on-line. Ellie Koo who runs Café Myel with her husband learnt how to bake cakes in Korea using recipes from France and Japan. All the cakes on sale at Café Myel are homemade by Ellie every morning. She told me that the banana bread is very popular but she is looking to encourage the people of Molesey to be more adventurous and try her special strawberry cake.
Ellie is keen for Café Myel to become part of the East Molesey community. Along with giving away free Halloween treats last month she is planning to take part in Magical Molesey for the first time by offering a range of tasty delights outside the shop. 'You can order whole cakes," she told me and I'll make them, whatever you are looking for.
Ellie plans to hire out the upstairs room at Café Myel for meetings in the day or the evening and to have special events for children during school holidays. The upstairs area is a quiet place to work or study with free WiFi and coffee on tap. It could be a new meeting place for community activity. Let's support Ellie and Keith as our high street changes and ensure that we don't have empty shops or impersonal chain stores who have no attachment to our local life.
If you take in this edition of Molesey Matters to Ellie at Café Myel she will give you a free taster cake with every hot drink you order and if you take it into Molesey DIY Keith will be delighted to see you.