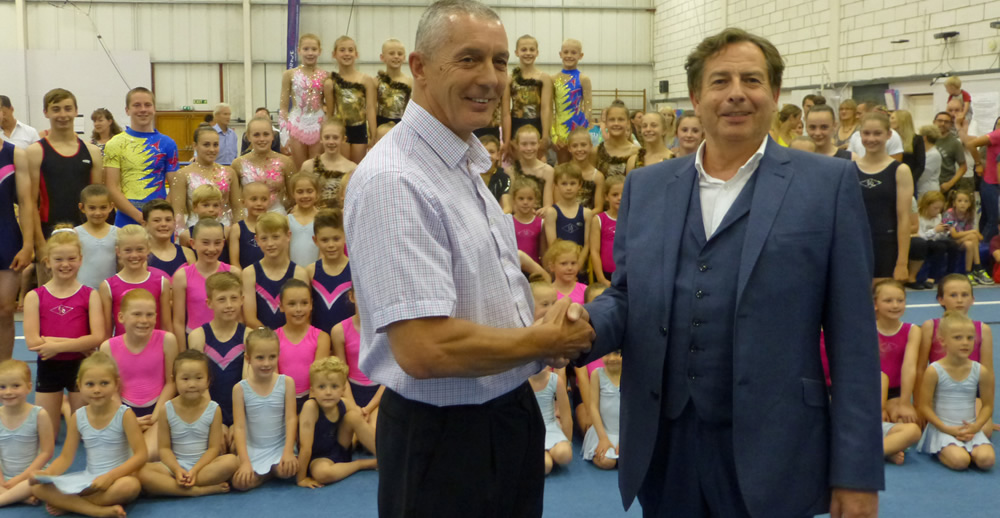 Thank goodness for a knight in shining armour. Spelthorne Gymnastics was due to be EVICTED as their home behind Brooklands College in Ashford was being sold for development but Inland Homes, the developer themselves, have stepped in with a deal to enable them to continue at their present site. We went along to see the deal completed and the emotion was palpable.
One parent told me they could not imagine the effect that losing the club would have had on his boy of 10 who trains for 15 hours every week there. "It is his life. How does a child understand something like this".
The cherry on the cake was the announcement by Inland Homes CEO Stephen Wicks (seen above with Bob Cooper) that they were making a donation of £50k to the club! I felt like crying, as did several of the parents, staff and children.
The club first opened in 1976 and is used by over 1,000 children every week. It is set to move to a new facility at Bishops Wand School in Sunbury, but their proposed eviction would have seen the gym forced to close. Inland Homes have acquired responsibility for the site of the gym from Brooklands College, and as part of a renegotiated deal has agreed a lease extension for the club. The new gym lease will come into effect once exchange takes place and will give an extension of the lease until September 2016.
It will mean the gym will not close and will provide vital time to secure the final £450,000 it needs to complete the move to the new site. You can help support the club. Pledge on Justgiving.com where they are raising funds through crowdsourcing, little by little every month. Search Spelthorne Gymnastics. Or contact the club www.spelthornegymnastics.com or call 01784 880474.
Seven gymnasts from the club, including current World Champions Frazer Windows and Finlay Gray, have just been selected to represent Great Britain at the European Championships 2015 so this support will mean that both they and the thousands of children following in their footsteps can continue in training at the Club for many years to come.