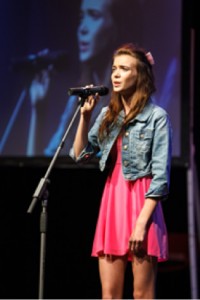 These days it seems the dream of every youngster is to be famous or be a star. It looks as if for local girl Lucy Watkins it is all going in that direction.
Lucy is still only 15 but her interest in performing was apparent at a very early age. She has been dancing with the Sally Pond dance school in Hersham since the age of 3. Working with Sally has given Lucy opportunities to perform in public. She has danced at Disneyland Paris as part of the Mardi Gras celebrations and also at her  Majesty's theatre in London. On several occasions she has performed with the 'Joseph and his Technicolor Dream Coat' choir at Woking, Windsor, Wimbledon, Richmond and the G live theatres at Guildford. She has danced at the Savoy theatre in London and Croydon theatre with 'Take That'  the musical. 
Her love of singing became apparent when she was only little too.
Her mum Angie heard her singing along to James Blunt's "You're Beautiful". Angie turned to dad Colin and said "She's good. Perhaps we should get her singing lessons". Dad was amazed at her voice. He couldn't believe it was her. So Lucy started singing lessons in year 7 at Thamesmead with Sarah Page and now has lessons with Nancy Parker. She started doing  recording sessions and writing some of her own music at the age of 11 with family friend Steven Wilkinson who has his own recording studio. Steven really gave her confidence and encouragement and as a result Lucy has performed at a local open mic with Steven which gave her great experience. 
Last year she entered a competition called Open Mic UK. Other entrants to that competition who have made it into the public eye are local lads Union J. Also Luke Friend andLucy Spraggan of X Factor fame. Lucy made it to the area finals out of 50,000 entrants. There was huge support for her locally of course and she made it to the final 125. She has entered it again this year.
Lucy is now working with the Famous Company and you could say she is getting her first break. The agent has got her her first gig. She will be performing on 25th August at Thorpe park and will officially be using her new stage name of Aylis Mae (her two middle names).
Check Lucy's Facebook page Aylis Mae (make sure you like her page). You can also see her on Youtube.
Good luck Lucy! Life for this youngster looks interesting indeed.