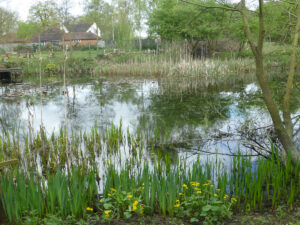 It all started in 1996 with two residents (one of whom was a local councillor) drinking in a pub to discuss life in the village. A thought they had was that the village lacked a central water feature such as a village pond.
Before long, Thames Water was contacted as was Spelthorne Borough Council and local conservation volunteers. The upshot was that Thames Water offered some unused land around which they installed a secure fence at their cost, and the council responded with advice. The volunteers formed a committee of all interested parties to progress the initiative with ideas. Funding was sourced from BAA Heathrow with local businesses being very generous. Although the current position of the pond is not exactly where the original pond in the 17th century used to be, it is near to the location as shown on a map of that time.
In 1997, a digger (courtesy of the Environment Agency) excavated the ground to enlarge a previous depression which regularly each winter filled with ground and rain water. The spoil was left on site to make the surrounding banks.
Since that time, volunteers from across the borough, and including local residents, have planted dozens of trees, shrubs, wild flowers together with seats and bird hides. With the addition of further funding, two dipping platforms have been built although sadly the winter of 2012/3 produced so much rainfall that the larger platform collapsed. Unfortunately, we had to remove all remains of the structure for safety reasons.
Volunteers continue to maintain and enhance the pond which is a haven for wildlife such as wildfowl, birds, insects, reptiles, Species seen include various Owls, Cuckoo, Woodpeckers, Moor hen, Coots, Ducks, Swans, Damsel fly, Dragon fly, Grass snake, Pipistrell bat, Rabbit, Fox, Toad, and Great Crested Newt.
Trees have been pollarded and coppiced, with several fruit trees planted this Spring to create an orchard. For insects we have designed and erected 'hotels' to provide much valued nesting sites. Old pallets have many uses especially for homes for insects.
Due to the deep water of the pond, and the desire to protect wildlife, the pond is, regrettably, not open to the public other than on work days and the annual Open Day which, this year, is on Saturday, 21st June to co-incide with the residents' association open garden day. Do please come and see us between 12noon and 4pm on that day.
We would love to show you what has been achieved over the years, and hopefully, you will come along on our work days to help keep this beautiful feature open for many more years. Without local involvement, the pond will have only a limited life before it becomes no more. Can you spare a couple of hours three or four times a year? We are also looking for someone to be the warden – is that you? 
 
For more information about the pond, and Spelthorne Civic Pride, contact me on 01932 883259