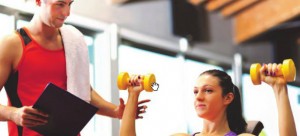 So after 16 months, its about time I got back into some regular exercise – the excuse 'I have a baby to look 
after' (whilst still obviously the case) and don't seem to have the time, what with work, 
nursery drop offs and the juggling demands of motherhood, are wearing thin (even with 
myself). The summer is fast approaching and I've decided I want to feel fit and healthy again and no longer want to get through the days on copious amounts of coffee and then veg out on the sofa by 8pm. For me. this isn't all about weight loss (yes I have a few excess pounds to lose) but this is more about personal confidence, feeling well and healthier in myself and my general wellbeing.
So, I found myself joining the local private members health club – The Thames Club 
earlier this month. It's not my first health club membership and therefore I was determined that I would really make this count. The club has a free private car park and is open fairly late in the week – which means my little girl can be put down to sleep by me and then when Daddy gets home from London, I can escape for that much needed 'me time' and exercise and get the endorphins pumping!
To help me really kick start my fitness, (albeit extra to the monthly membership at £40 per hour*) I enlisted the help of a personal trainer and have so far completed two one-hour sessions. No longer just for the rich and famous, personal training to me is about getting someone to help with my motivation, support me as I get back into an exercising habit and help me make some noticeable changes to my body.
I chose Karl Luckett, a softly spoken personal trainer at The Thames Club with heaps of experience in sports, martial arts and personal training and someone I instantly felt at ease with. He assessed my current fitness level through a few warm up cardio activities (which was better than I thought), considered my goals and then instantly devised a small circuit using kettle bells, TRX, VIPR and then a rowing machine, plus finished with an 'ab circuit to really help tone those problem areas. I went through the circuit 3 times….and managed it all!
The first sessions were challenging, pushed me and were hard but also fun. Karl encouraged me every step of the way. He corrected my technique and kept me going. The difference was amazing, as I would surely have given up towards the end of each set if he hadn't been there to support me.
I also think that having a personal trainer means I am making the most of my gym session, ensuring the time I have exercising is more effective at reaching my goals of toning up (but not bulking) and burning calories, whilst increasing energy levels and my overall fitness.
So far, so good and I am feeling very positive and energized…. To be continued.
 
For more details about memberships and personal training options at The Thames Club – www.thethamesclub.co.uk 01784 463100 (*Members of Thames Club can book a free 30 minute consultation on any of the above to help them add it into their exercise routine)