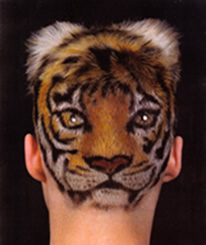 Off a somewhat faceless 60's concrete square in Charlton Village, you open a doorway into another world. One of creativity and self-expression. This is the world of Colin Watkins of Studio 2000. Studio 2000 is a hair salon, but not quite your usual one. Colin is an artist, his canvas is your head and his studio looks like the inside of a space ship!
During his training to be a hair dresser he showed such artistic flair that Art was an avenue he could have chosen. But at the time of the fashion for highlights and lowlights Colin saw the potential to push the boundaries. He called for volunteers to perfect his technique for colouring. He spends time preparing all his designs on paper before he touches any head of hair so has not had any disasters. On the other hand he has had many people contact him from all over the country to correct their own hair colour disasters including a bride to be! Wife Angie has been a willing walking advert for the business, sporting Pudsey for a Children in Need appeal, a tiger, and a red panda (see cover) to name but a few. She is frequently stopped in the street. You can't help wanting to ask "How, Where, and even Why?"
Today is a world of self-expression and individuality. Tattoo art has for many years been a mark of self, but the permanence can of course leave lasting regret. A hair do can grow out and change within weeks.
Colin is a world renowned figure in the field of hair art. He has travelled the world doing shows and demonstrations, from Australia, to Japan, Canada and was even asked to go to Greenland! He has met royalty, done the hair of many a celebrity and frequently appeared on TV. One such appearance prompted a call from none other than George Lucas who had seen a photo of Colin's Phantom Menace creation on TV.
The strangest request was for the face of the person concerned to be replicated on the back of their head, creating a two face. He is a favourite of Vivienne Westwood, creating hair do's to go with her collections. He nearly worked with Michael Jackson. Pity that didn't happen. You can just imagine what they could have done with hair art on a pop video!
Oh, and in case you were wondering, Colin does all the usual stuff too!