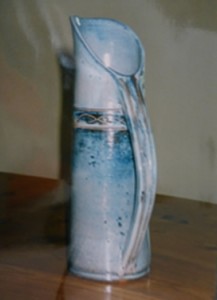 When I was a child I was fascinated by my mothers pottery class to such an extent that I would regularly time any minor ailments which required me to stay at home to coincide with the day of her class. I would sit quietly and watch. Occasionally I might pick up some clay and mess about with it, although I never remember producing anything useable!
That is not the case with local Potter Andrew Davies. He has been working with clay for decades. He wants his pots used! They are rustic items for use, not show, although they are rather lovely pieces too! He bases himself in his studio in the garden, which is set up with a potters wheel and two kilns. This is where he works and also where he shows his work and does the occasional sale, to which I was invited recently and where I purchased a rather lovely jug!
On the shelves on one side of the studio sit a collection of items which are not for sale. They tell the story of his progress, some pieces which didn't quite work out and others which are real one offs that he does not want to part with. "Each piece is there for a reason" he told me.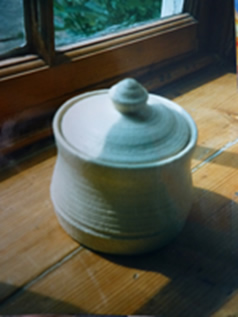 Andrew has honed his craft over the years, attending master classes with experts where he has gleaned new techniques and methods. I remember the magic of the glazing process: Seeing a piece put in the kiln decorated with a slip or glaze but at that stage looking somewhat dull and lifeless. Then the revelation after the firing process of this finished shiny item, colours melting into each other and looking like a completely different piece. I was never disappointed by this metamorphosis.
Andrew is a true local, having lived in his lovely house in Laleham for 30 years. He opens his studio to the public twice a year and has also taken in groups from local schools to inspire them in his craft. If you are interested in seeing or buying any of Andrew's work you can contact him on 01784 462807 or email him on a.davies628@btinternet.com.
If you feel inspired to give pottery a try, now is the time to enroll in one of the local adult education programmes. I may even give it a go myself again!