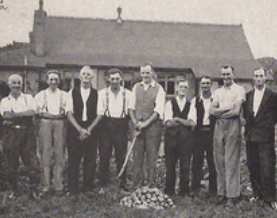 There have been allotments in the Parish of Laleham for more than 150 years. A local Tithe Map of 1845 shows a small plot of land off the Ashford Road, where the 'Royal Estate' is now situated, and was known as the 'Poors Allotments'.
This land was the "charitable endowments for the benefit of the poor under the jurisdiction of the Church Wardens; " who in 1845 were Thomas Chandler and Harden Honnor (hence Honnor Road, Laleham).
From 1803, the Lucan family owned much of the land in and around Laleham, from the River Ash in the North to the River Thames and as far as Chertsey Bridge in the South. The Lucan's lived in the Manor House, now known as Laleham Abbey and were benevolent landlords during their 120 years in the village. The Lucan family gifted land for a village school, the recreation ground and the allotment gardens.
The present allotment site of about 2.6 acres is located in the centre of the village and is owned by the Lucan Estate. Local residents formed the Laleham Allotment Holders Association (LAHA) in 1918 with the then Earl of Lucan as its President.
In 1920's the rent for a full plot of 10 rods was 4/- (20p) and for a half plot 2/- (10p) per year and the total annual income was £12 8s 0d. Currently we have 75 members in the allotment association who are gardening a total of 46 plots.
Our members grow many different varieties of vegetables (many unknown in 1918) including squash, pumpkins, courgettes, herbs, garlic, asparagus and many more.
Even some ambitious gardeners have grape vines – so the hope one day is that they will have their own 'Chateau Laleham'!
To ensure our allotment site is kept tidy we have three 'Working Party' days in the autumn; these are part 'tidying-up' and part a social activity.
The allotment gardens at Laleham have been enjoyed by many people in the village and the surrounding area for almost 100 years and it is hoped this will continue into Neil Meek. LAHA Committee Member 2014