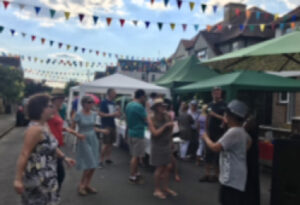 A perfect Summer's day in early June brought crowds into Lower Sunbury village for the annual Open Gardens event. As seems to be the way during our village events (I am thinking Christmas market last year), Thames Waters saw fit to once more shut Thames Street. Whilst this could have been cause for irritation, a lot of people chose to walk or cycle in the warm sunshine and enjoy the lack of lorries and buses powering through our little village.
It was perfect.
There were six gardens open, many of them for the first time and several showing off their splendour after a makeover. What struck me was the very different gardens on offer. Each had its own style, some professionally laid out, others more homely. Roses were in abundance, with rose arches of scented blooms welcomed visitors in several gardens.
33 Green Street is an interesting residence. It was at one time the local fire station and later an undertakers. The archway leading into the back garden is a piece of history itself. Thinking about the various incarnations of the building and the stories of rescue and sadness that must have happened over the centuries. When we live in an old building we are merely passing by, custodians for the future.
Monksbridge has its fair share of history of course too. The splendid gardens hosted Spelthorne Gymnastics who wowed crowds with their skill. Visitors could walk in the gardens where Prince Edward visited his then mistress before abdicating and marrying Mrs Simpson. Fast forward to rock stardom and the original artwork for Pink Floyd's 'Brick in the Wall' album which is still at Monksbridge.
A huge well done is in order for Sue and George March who make Open Gardens happen each year. It is a big event to put on and we can't take that for granted. Thanks also to the many volunteers. In total the event raised £10,500, half going towards Spelthorne Gymnastics and half going to Huntingdon's Disease research. There are already gardens offered in the Avenue and Manor Rd next year so if anyone in that area is interested in the possibility of opening your garden, please contact Sue on 01932 786675.
That sunny day in early June was also the day of the Big Lunch in Sunmead Road. The idea is to get neighbours to sit down together and get to know each other as a way of engendering better communities and togetherness.
Part of Sunmead Road had been officially closed and gazebos were put up, tables and chairs brought out, freshly cut flowers put in vases on the tables and bunting festooned the road. Residents all brought food and drink to share and as one of the locals is a DJ…well it would be a shame not to have some dancing. I approved of the choice of tunes which were very much of my era!
Games had been set up for children and people of all ages and backgrounds got together to have fun in the sun. Such events offer the chance to get to know your neighbours, show and interest in those around you, help each other, offer support and skills. It most certainly promotes well being and we certainly need that these days. It would be great to see more such events, so why don't you think about getting a lunch organised in your area then tell Sunbury Matters about it.