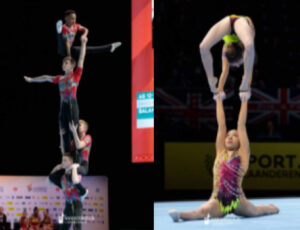 Big congratulations to our local team, Spelthorne Gymnastics, who recently represented GB in Belgium at the World Championships. Here is a report from the club:
For many of the competitors, it was their first time at Worlds, so a huge achievement to have been picked to represent team GB. Even more impressive in that most of the partnerships were newly formed. Zoe and Fran, and Saskia, Katie and Mollie have only been competing together in their partnerships for a short time, so to be picked for the team was a big deal.
Max, Dan, Jacob and Cameron have previously competed at the World Championships. As current British Champions these young men were also selected to represent team GB. Frazer and Finlay, previous 2014 World Champions at 11-16 now tried their luck in a more difficult 13-19 category. Later in the week the newly formed partnership of Charlie and Adam also competed. With so many titles to their name as a Men's Four they were out to prove to the world they could now smash it as a Senior Men's Pair.
The finals beckoned for members of Spelthorne Gymnastics as both the Women's Pair and Men's Four made it through. A dramatically beautiful combined routine to Christina Aguilera, from our girls stormed them to the top and they finished with the same score as Russia 28.100! With a slightly lower execution score they had to settle for Silver. What an incredible achievement for these two, performing together for only a few months, building up difficulty and polishing their routines to grace the World stage and take the title of medallists at the World Acrobatic Championships!
It was not only the girls who brought us home some medals, the boys also did.
A medley of upbeat disco tracks was the medal winning routine for our Men's Four too. The crowd and judges obviously enjoyed the routine as much as we did. A score of 27.340 putting them only slightly behind Russia. Let us not forget, these boys did not have the same high difficulty score as the Russians. These boys still have a lot more to give. So to be the young ones in their category, to earn a silver medal and still have a lot more to give, this excites us!
Finally, Frazer and Finally. We love watching these two, a partnership that has grown and developed over many years. A Gold Medal at Worlds in 2014, back when the club was in it's redevelopment process, and when the boys were only just starting out in their career. To continually bag more medals and titles nationally and internationally, to continue to make us smile with entertaining routines, dance with charisma and style to gain their final medal as a Men's Pair. A World Bronze medal at 13-19, Congratulations boys!! Now time to pass the finals over to our dynamic duo in the Senior Category. Competing on the weekend their combined routine.
These boys have just transitioned from a Men's Four to a Men's Pair. A difficult transition for both, Charlie having to take the strength of three bases to withhold the balancing pro that is Adam. The category was tough, experienced gymnasts tried their best to challenge our boys, but not all of them could get past our previous world champions. The boys finished the championships off with a bronze medal. Huge congratulations. If they can achieve this status after a few months, who knows what is to come?